The new book presenting this research shows how these psychologies emerge in nature, be it selfish and promiscuous rabbits, exploiting fields of grass they can never consume while single-parenting offspring they have no cares for, or loyal packs of sexually-selective wolves competing as a team with all their might for territories that they need, so that their entire pack may carefully rear their precious pups safely. It highlights how these strategies have been described for decades in r/K Selection Theory, and how they have emerged spontaneously in human history in response to resource availability. It describes how in other species, r and K-Strategists exist side by side in populations, competing with each other. It examines how conflict affects and develops conflict-managing brain structures in humans, how the lack of conflict produces measurably defective structures in Liberals on MRI's, and how these same brain structures, when damaged in cases of disease and trauma, produce all the symptoms of the modern Liberal – from docility and inability to recognize threat, to hyper-sexuality, to low investment parenting, to a lack of selfless dedication to peers. The book examines what the genetics of politics tells us about how one may be predispositioned towards Liberalism, as well as how Liberals will strive to compete by pitting K-strategists in fights against other K-strategists - a strategy seen in other species, as well as in humans (where Liberal rabbits, who would never challenge a Conservative face to face, are all too eager to send armed, K-strategist government agents after their political foes). This book offers a comprehensive explanation of exactly what Liberalism is, how it emerges in society, the behavioral strategies it has evolved, where these same strategies can be seen in other species, and what will ultimately lead to the Liberal's downfall. Meticulously researched, and substantiated with all the latest peer reviewed studies, this book makes an impressive case for political ideologies being deeply imbued emotional manifestations of r and K-selected reproductive strategies. In doing this, it offers an amazing argument against Liberals which brings all Liberals who face it to a sputtering rage.

The book even shows how history cycles, as practically-minded, productive, Conservative cultures emerge from harshness and shortage, only to see the success and wealth they produce gradually corrupt and degenerate the weaker citizens around them - who proceed to multiply with abandon. As time goes on, these rabbit-people gradually destroy the very greatness that produced them, as they advance every vice from moral degeneracy, to the destruction of family, to the appeasement of, and betrayal to, foreign hordes. Once they have brought about collapse, the resultant harshness brings back the Conservative psychology in the populace – since the wolves are the only psychology which is capable of weathering the storm produced by the rabbits. As Conservatism rises again, so does the population's greatness and success, and then the cycle begins anew. The wolves produce greatness, the rabbits emerge, try to exploit it and crash the ecosystem, forcing the wolves to re-emerge, and rebuild it all again. It is an astonishing insight into historical events, our modern political battles, and even the course our nation is presently on. As the image below shows, whenever K-stimuli, such as war, conflict, or resource-shortages/economic-downturns occur, Conservatism rises, just as peace, prosperity, and comfort cause Conservatism to retreat. That is organisms adapting their behavioral strategies to resource availability, and the effect of that is alterations in the population's political nature.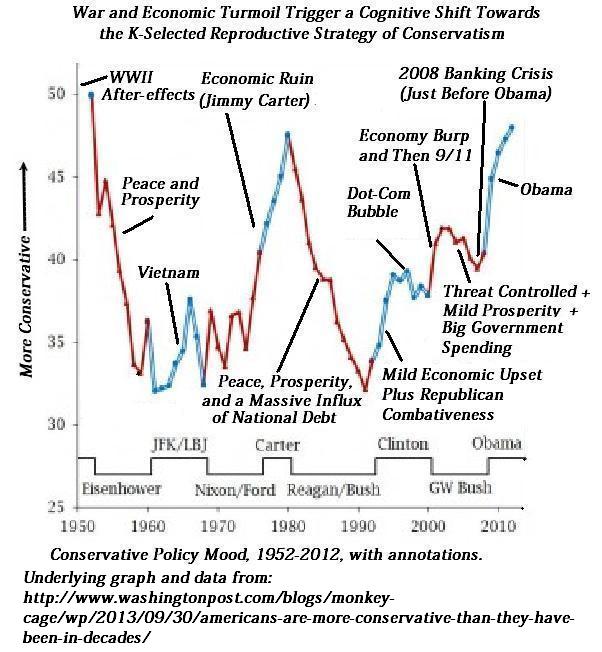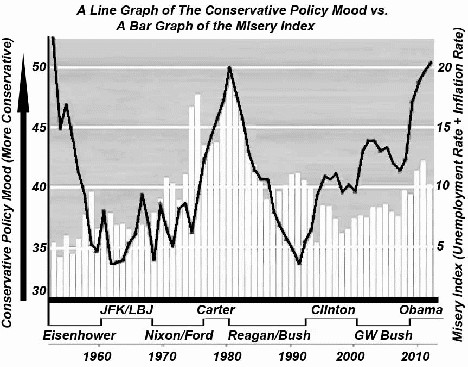 Enter your email above to get our free book, and you will also get access to the private side of our website, including our blog, where we further expound on politics, reproductive strategies, debating, and psychology, including our "Touching The Raw Amygdala" series. In that series, we examine the Liberal's altered brain structures, and show both, how the structural differences alter how they debate topics, as well as how to best use their brain's quirks to manipulate them in debate. There is no catch to signing up, we only email out when the book will be free, and you can remove your name with one click on a link in any of the emails we send out. We only want to promote this idea.